Graduate School ITB together with Research Center for Nanoscience and Nanotechnology (RCNN) ITB invites you to join International Virtual Course (IVC) 2022, under the theme "Fundamentals and Applications of Nanoscience and Nanotechnology" that will be held on July 25-29, 2022.
IVC activities will be conducted in the form of online lectures through zoom media and last for approximately 1 (one) week. The lecture will be delivered by lecturers / researchers from ITB and also speakers from Universities and research institutes abroad. Each participant in addition to gaining insights on Nanoscience and Nanotechnology also will get 2 (two) course credits equivalent to NT5002 Seminar Teknologi Nano and certificates.
Note :
*Course credits can only be obtained if participants meet the criteria determined by ITB and register through admission ITB website (Regitration Online Here)
*This IVC program is open to national and international students, researchers, and practitioners.
List of Lecturers from Partner Institution :
1. Prof. Takeharu Nagai (Osaka University)
2. Assoc. Prof. Aleksandar Staykov (Kyushu University)
3. Assoc. Prof. Takahiro Kondo (Tsukuba University)
4. Dr. Muhammad Danang Birowosuto (PORT Polish Center for Technolgy)
5. Dr. Sabina Quader (Kawasaki Institute of Industrial Promotion)
List of lecturers from Indonesia
1. Prof. Hermawan K. Dipojono, M.S.EE, Ph.D. (ITB)
2. Prof. Dr. Heni Rachmawati, Apt., M.Si. (ITB)
3. Dr. Anggraini Barlian, M.Sc. (ITB)
4. Dr. Arie Wibowo, S.Si., M.Si. (ITB)
5. Mohammad Kemal Agusta, S.T, M.Eng., Ph.D. (ITB)
6. Dr. Grandprix T. M. Kadja, M.Si. (ITB)
7. Dr. Eng. Muhammad Iqbal, S.T., M.T. (ITB)
8. Hadi Teguh Yudistira, S.T.,Ph.D (ITERA)
9. Amirah Adlia, S.Si., M.Si. (ITB)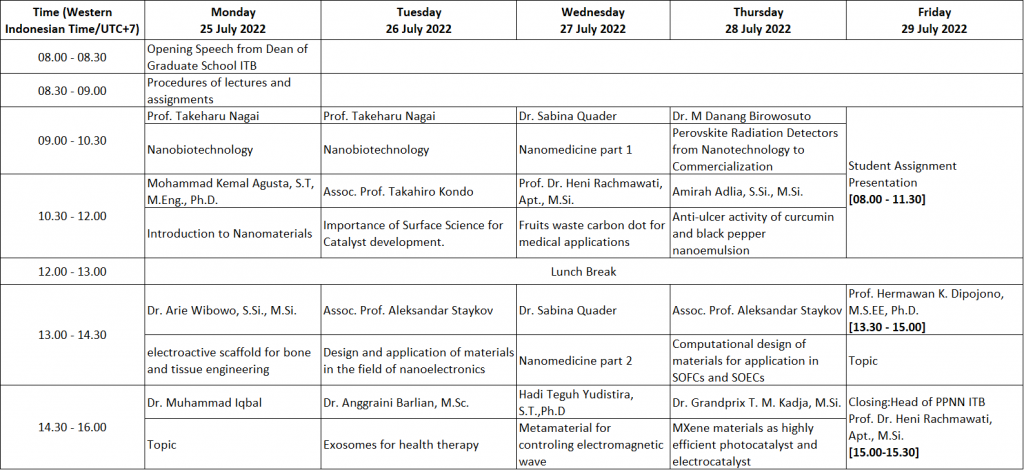 Registration Link : https://bit.ly/IVCregistration2022
Further Information : https://bit.ly/IVCPPNN2022
Contact Us : Nanocenter.itb@gmail.com or send to whatsapp : 082118004343