IVC activities will be conducted in the form of online lectures through zoom media and last for approximately 1 (one) week. The lecture will be delivered by lecturers / researchers from the Research Center for Nanoscience and Nanotechnology (RCNN) ITB and also speakers from abroad (USA, China, Canada, and Malaysia). Each participant in addition to gaining insights on the development of nanotechnology in biomaterials also will get 2 (two) course credits and certificates. Equivalent to NT5002 Seminar Teknologi Nano (2 credit) .
Registration Online
For registering to this course, please visit here. The application deadline is August 30th 2021 at 12:00pm (UTC +7). And please visit following link to apply for ITB International Virtual Courses; Join Course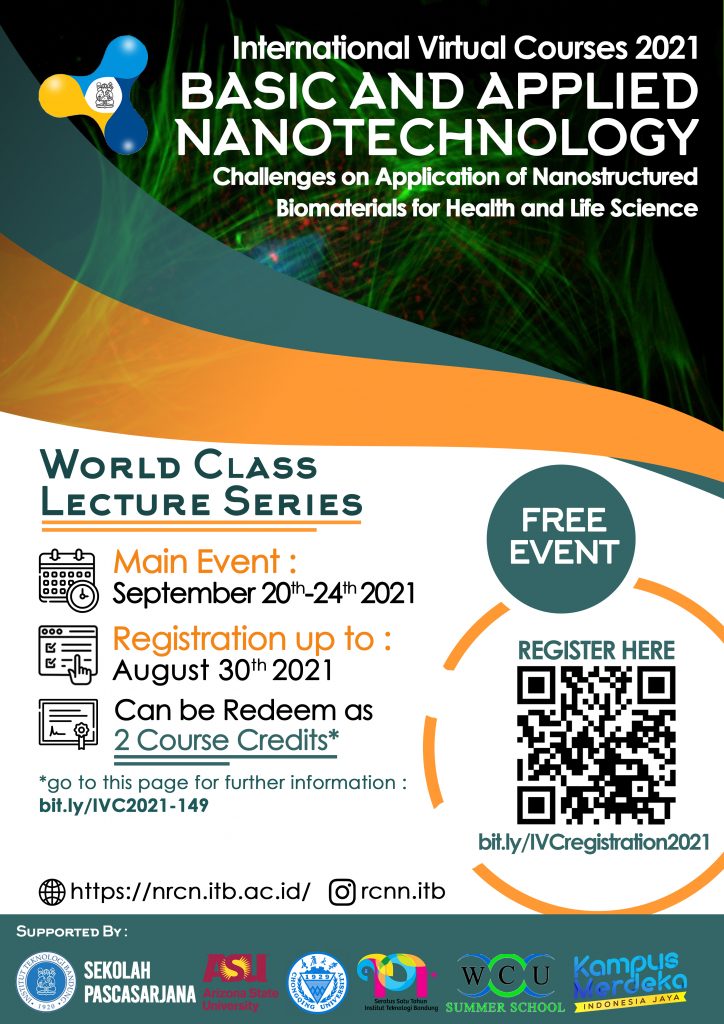 List of lecturers from Institut Teknologi Bandung
1. Prof.Ir. Hermawan K. Dipojono, MSEE., Ph.D.
2. Prof. Brian Yuliarto, S.T., M.Eng., Ph.D.
3. Prof.Dr. Heni Rachmawati Apt.,M.Si.
4. Dr. Anggraini Barlian M.Sc.
5. Dr.rer.nat. Marselina Irasonia Tan MS
6. Dr. Arie Wibowo S.Si.,M.Si.
7. Dr. Fitria Dwi Ayuningtyas
List of Lecturers from Partner Institution
1. Prof. Vivi Kasim (Chongqing University – China)
2. Dr. Rizal Hariadi (Arizona State University – USA)
3. Dr. Tommy Julianto Bustami Effendi (Universiti Teknologi MARA – Malaysia)
4. Dr. M. V. Reddy (Institute of Research Hydro – Quebec, Centre of Excellence in Transportation Electrification and Energy Storage (CETEES), Canada)
5. Prof. Masahiro KINO-OKA ( BioProcess Systems Enginieering Lab., Department of Biotechnology, Graduate School of Engineering, Osaka University)
Registration Fee
Free for ITB Student
2500000 IDR for non-ITB students for 2 credits of master courses.
Schedule